Indoor plants give our living spaces vitality, reduce stress and even filter pollutants out of the air. Whether orchids, succulents or ornamental foliage plants – they all begin their triumphal march through our living rooms. I'll show some Ideas for your livingroom
how to make your home a green oasis with indoor plants, whether you have a green thumb or not.
The potted plants that have been little noticed for a long time are back! I've been an enthusiastic indoor plant lover since I was a kid and I'm happy about the "new" trend, which was never over for me. My houseplants have comforted me with their fresh greenery over many cloudy and wet winters and some have been in my possession for more than twenty years.
If you think you don't have a green thumb, you can start with particularly easy-care indoor plants. Debora has already described very nicely which plants are particularly suitable for beginners and also shows great ideas on how to decorate plain pots. I tried out their ideas myself and added green accents to my hanging clay pot.
Turn your living room into an Urban Jungle
To add a touch of exoticism and a pinch of jungle to your living room, all you need are indoor plants. It's best to have as many as possible in different sizes, colours and textures. I'll show you the best way to show off your plants:
Location and plant selection
The supply of indoor plants is huge and you are spoilt for choice.
Before buying, think about which corner you want to green and how much light is available to the plants there. There are plants for sunny, semi-shady and shady locations. Do it + Garden can advise you on which plants are suitable for your room.
The "species-appropriate group housing"
Only with several species and larger arrangements can you achieve the desired Urban Jungle feeling. Note that you do not repeat the same groupings all the time. Bring variety to your arrangements with different heights and widths of houseplants, leaf shapes and structures. They are especially appealing when the plants are randomly distributed and are not rigidly lined up next to each other.
The right flower pot
It is important for plants that the planter is neither too large nor too narrow. If you can put a finger between the pot and the planter, it is perfect. When it comes to decoration, the choice of flower pot reminds me a little of the classic make-up tip – either it should be a discreet eye makeup with bright lipstick or the other way around.
I have placed my orchids in different white cachepots. The white brings calm into the arrangement and focuses the view on the colourful flowers. My absolute favourites are succulents and ornamental foliage plants. Be it Buntnesseln, Sansevierien or the great Begonia-Rex varieties – they all inspire me with their beautiful leaf structure. In dark cachepots the strong to velvety mat colours come into their own.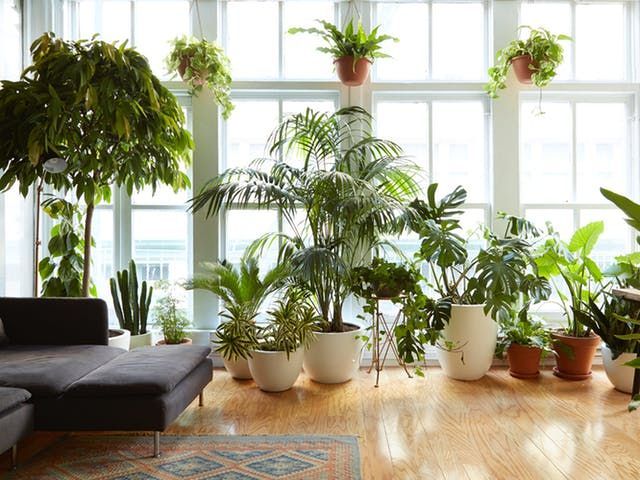 My tip for individualists:
used as a planter, the Snap Paper Basket is the ideal eye-catcher in your indoor plant arrangement. To prevent damage when watering the plants, simply insert the matching saucer at the bottom of the Paper Basket to protect them.
The exotic 'Alocasia amazonica' and the violin fig 'ficus lyrata' are currently the trend plants par excellence. Both do not like to stand directly in the blazing sun, an east or west window is ideal. The violin fig grows rapidly in height. If you cut the shoot tip in time, you stimulate it to display and thus keep an eye on the final height. On the far right you can see the succulent 'Kalanchoe bracteata', which can also be presented very well in these coloured pots.
Flowering scented orchids
The best known and easiest to care for orchid species is the Phalaenopsis. It can cope in many locations, sometimes forgives a care error and still produces unshakable flowering shoots. For watering, my orchids get a weekly immersion bath in lukewarm water for 10 minutes, they are fertilized with the practical Mioplant fertilizer sticks. You can also use special liquid fertilizers.
My new orchids Cambria, Dendrobium and Miltonia partly cover the whole room with their wonderful scent. I like to bridge the blossomless time with artificial orchid blossom twigs from the decoration need, which I put into the pot. In the Orchid Guide you will find many more tips for the care of orchids.